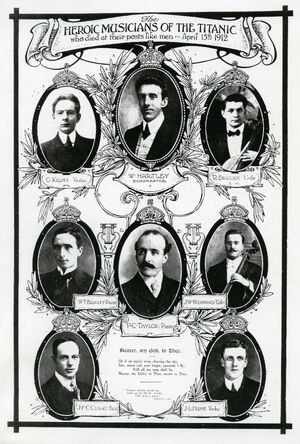 The final moments of the Titanic produced many tales of bravey and heroism: One of the most famous ascepts of the Titanic fable is that of the ship's band: on the night of the sinking, the band was on deck playing cheerful tunes to keep passangers clam. As the ship's began it's final plunge into the icy ocean, the conductor instructed his band to play "Nearer, My God, to Thee". The hymn ended when the water reached their feet. Just mintines later the ship sank.
For a couple of weeks, the dead of the Titanic drifted in the cold April waters. Recovery teams manged to find over 300 bodies, one of which was the body of the band conductor, Wallace Hartley: it was reported the violin was still stuck to hs frozen copuse when they got him.
Ad blocker interference detected!
Wikia is a free-to-use site that makes money from advertising. We have a modified experience for viewers using ad blockers

Wikia is not accessible if you've made further modifications. Remove the custom ad blocker rule(s) and the page will load as expected.