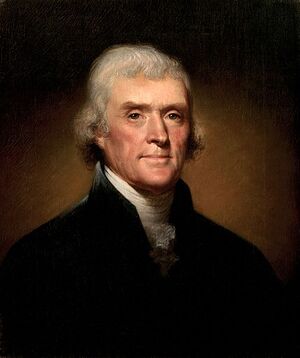 Thomas Jefferson was the third US President. He is known for writing the Declaration of Independence.
Also, he had the Lousiana Territory opened upon making a deal with Napoleon Bonaparte.
More of those was that he banned piracy, grew the first tomatoes in the United States, wanting to prove to Americans that they were not poisonous, and introduced ice cream.   
Ad blocker interference detected!
Wikia is a free-to-use site that makes money from advertising. We have a modified experience for viewers using ad blockers

Wikia is not accessible if you've made further modifications. Remove the custom ad blocker rule(s) and the page will load as expected.