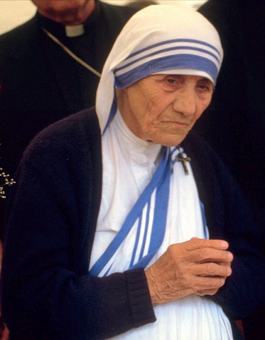 "

Let us more and more insist on raising funds of love, of kindness, of understanding, of peace. Money will come if we seek first the Kingdom of God - the rest will be given.

—Mother Teresa—
Teresa of Calcutta, M.C. aka Mother Teresa (born Agnes Gonxha Bojaxhiu (in Macedonian: Мајка Тереза, Гонџа Бојаџиу August 26th, 1910 – September 5th, 1997) with an Albanian ethnicity and Indian citizenship. She was a Roman Catholic Religious Sister. For over 45 years, she ministered to the poor, sick, orphaned, and dying, while guiding the Missionaries of Charity's expansion, first throughout India and then in other countries. Following her death, she was beatified by Pope John Paul II and given the title "Blessed Teresa of Calcutta".
Mother Teresa's Missionaries of Charity at the time of her death had 610 missions in 123 countries including hospices and homes for people with HIV/AIDS, leprosy and tuberculosis, soup kitchens, children's and family counselling programmes, orphanages and schools. She received numerous awards including the Nobel Peace Prize in 1979, and the Bharat Ratna in 1980.