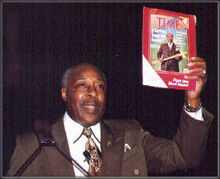 Louis Joe Clark (born May 7, 1938 in Georgia) is a professor who changed Eastside High School, in Patterson, NJ,
from a crime haven to a glorious school.
He is a lifelong Republican who always stressed the importance of education and personal responsibility. But he is also a loving father figure who has helped many kids from broken homes and, I'm sure, has given them a place to stay in his home, til they could find loving adoptive parents (this is one thing not talked about but being he oversaw a lot of kids from broken homes, I'm sure this happened).
He was the inspiration for Lean on Me, but that movie distorted him fairly negatively (at least for the first 50 minutes of the movie, in which he is portrayed rather villanous; the real Clark would not have humiliated kids for petty things or humiliated a teacher for picking something up).
Ad blocker interference detected!
Wikia is a free-to-use site that makes money from advertising. We have a modified experience for viewers using ad blockers

Wikia is not accessible if you've made further modifications. Remove the custom ad blocker rule(s) and the page will load as expected.