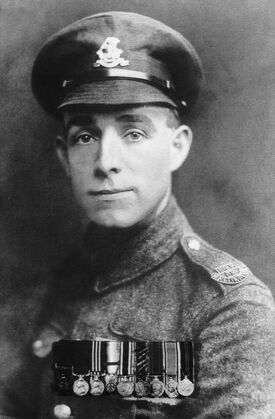 Write the first paragraph of your page here.
http://i1.coventrytelegraph.net/incoming/article7183776.ece/alternates/s615b/Henry-Tandey.jpg
Section heading
Write the first section of your page here.
Military Service
Tandey enlisted into the Green Howards Regiment in August of 1910. After basic training he was posted to their 2nd Battalion on 23 January 1911. Tandey was put many different Battalions during World War One.
Then on September 28th 1918, German soldiers were retreating from their trench as british forces overtook them. Tandey Aimed his rifle at a wounded German soldier, he was too weak to even lift his own weapon. But Tandey lowered his rifle and chose not shoot him, only later did he find that the man he refused to kill, was actually 29 year old Lance Corporal: Adolf Hitler!