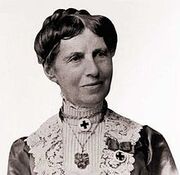 Clarissa Harlowe "Clara" Barton (December 25th, 1821 – April 12th, 1912) was a pioneer American teacher, patent clerk, nurse, and humanitarian. At a time when relatively few women worked outside the home, Barton built a career helping others. One of her greatest accomplishments was founding the American Red Cross. This organization helps victims of war and disasters. She was never married, but had a relationship with John J. Elwell.
Ad blocker interference detected!
Wikia is a free-to-use site that makes money from advertising. We have a modified experience for viewers using ad blockers

Wikia is not accessible if you've made further modifications. Remove the custom ad blocker rule(s) and the page will load as expected.